lazyme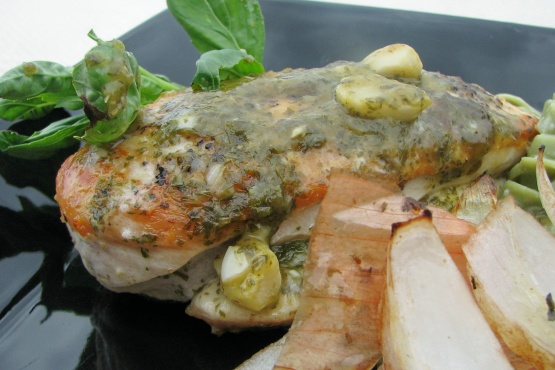 This is yummy, quick and easy. I got the recipe from Publix Apron's Simple Meals series. I used flour instead of cornstarch and added a little bit more wine because I had a little more chicken. You can also use fresh tarragon if you have it. I served this with orzo with chopped sun-dried tomatoes and broccoli. I just added the sun-dried tomatoes and broccoli to the water that the orzo was boiling in. Very easy side dish.

This is excellent!!! Very tasty. I could taste both the lemon juice and the tarragon, yet neither one was overpowering. All of the flavors blended very well together. I used chicken thighs because I don't care for the breast. I am allergic to wine, so I subbed chicken bullion for it. This deserves 5 stars but since I changed a couple of ingredients, I don't know how it tastes made as written. I will definitely be making this again. Thanks for sharing your recipe. Made for PAC Fall '07.
Prepare sauce by adding the following to food processor: 2 strips lemon peel (remove with vegetable peeler or zester) and juice of lemon (2 TBSP), garlic, parsley, green onions, tarragon, wine, cornstarch, and sugar. Process 20 seconds until well blended.
Season both sides of chicken with salt and pepper. Preheat large sauté pan on medium-high 2-3 minutes.
Place oil in pan; swirl to coat. Add chicken, and cook 2-3 minutes on each side.
Pulse sauce one more time, then pour over chicken. Cover, reduce heat to medium low, and simmer 6-8 minutes, turning occasionally, until internal temp reaches 170°F.
Serve sauce over chicken.