ImPat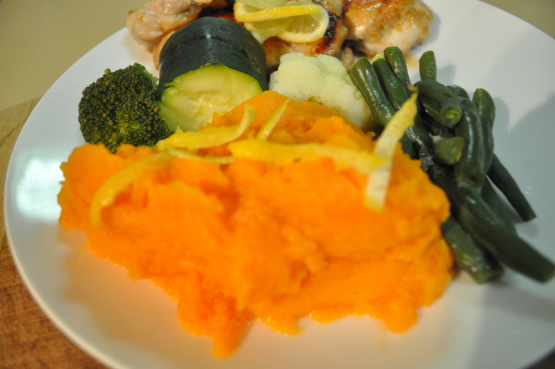 My old next-door neighbor made these every year for Thanksgiving. She got the recipe from Gourmet Mag. Now I make it every year for Thanksgiving too. You can assemble this and put it in the fridge until your ready to bake.

Top Review by ImPat
Fantastic with the sweetness from the sweet potatoes and the slight tartiness of the lemon a great side dish though I had to omit the egg yolk (the DS threw it out and it was my last egg) but in all honesty it didn't need it. Thank you E.A., made for ZAAR Chef Alphabet Soup.
Cook, peel and mash sweet potatoes. Beat in lemon, butter, salt & pepper to taste, eggs yolks, and nutmeg to taste until smooth.
Transfer into a 1 1/2 quart buttered casserole dish and brush top with butter.
Top with lemon slices.
Cook at 325 degrees for 45 minutes or until heated through.