awalde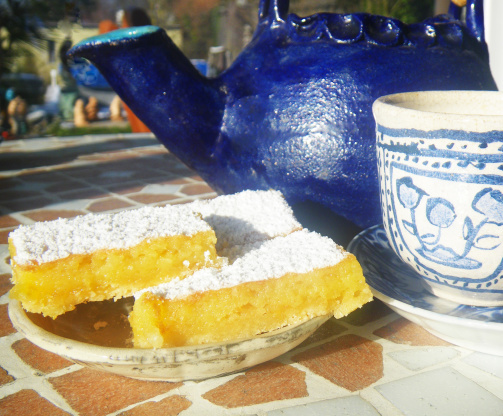 This is from The Family Baker by Susan G. Purdy, and is really, really good. I made this and it turned out well.

Absolutely delicious, but then we love lemon, so much so, in fact, that the one change I made when preparing these was to use a nicely round tablespoon of the lemon zest! Couldn't have been better! Thanks so much for sharing this wonderful recipe! [Tagged & made in Please Review My Recipe]
Position a rack in the lower third of the oven and preheat to 350 degrees F.
In a mixing bowl use a sturdy spoon or electric mixer, beat together the flour, butter, confectioners sugar, and salt until well blended. Press the dough into an even layer in an ungreased baking pan (8x8 or 9x9x2). Bake for 20 minutes, then set the pan on a wire rack.
In the meantime, prepare the filling: Using an electric mixer, beat together the eggs, granulated sugar, baking powder, lemon zest abd juice. Continue beating for 3-4 minutes, until the mixture is pale in colour and very foamy.
Pour the lemon mixture into the pan and put it back into the oven and bake for another 25 minutes.
Cool the pan on a wire rack and when cold, sift on the confectioners sugar and then cut into 2 inch squares.