Baby Kato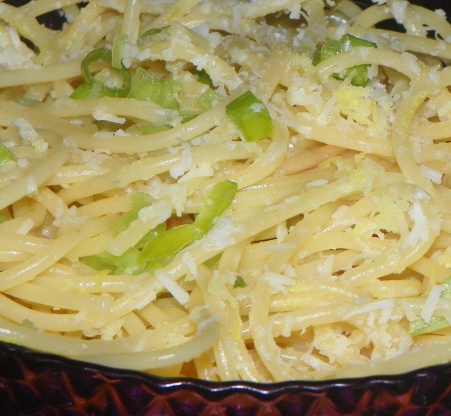 This recipe came from Giada de Laurentis on the Food Network. I saw her make this and I was amazed at how simple it was! It's like being a gourmet cook yet fooling everyone--!!! Tastes so light and fresh, but yet so satisfying for those pasta cravings we sometimes get! Very Italian...Yum!

This is also in one of her cookbooks. I've made it a few times. I like it but I don't love it (and yet I keep making it...says something). I often add asparagus and or avocado to this as well. Last time I used a whole avocado instead of any olive oil and blended all of the sauce together. Pretty tasty!
Cook the pasta in a large pot of boiling, salted water according to package directions (until al-dente') Stirring occasionally, about 8 minutes.
Meanwhile, whisk the olive oil, Parmesan cheese and lemon juice in a large bowl.
Drain the pasta, reserving 1 cup of the cooking liquid.
Toss the pasta with the lemon sauce, and add the reserved cooking liquid and toss again. (Adding 1/4 cup at a time as needed to moisten.).
Season with the salt & pepper. Garnish with lemon zest and chopped basil.