For those looking for healthy soy recipes, and fans of lemon desserts - that would be just about everybody, no?
Directions
In a large pot (or plastic container if you want to make it in the microwave, which works very well) mix the cornstarch, the grated lemon zest, salt and sugar.
Slowly mix in enough soymilk to make a smooth paste.
Then mix in the rest, keeping it smooth.
Cook over medium heat, stirring constantly until thickened.
Stir in as much lemon juice as you like- I recommend 2 large ones but it may be more or less according to taste and how juicy the lemons are.
If making in the microwave, microwave on high for 2 or 3 minutes at a time, stirring well in between times, until thickened and then add the lemon juice.
If you object to bits of lemon zest it should be strained before you chill it.
Anyone who likes lemon desserts goes nuts for this.
Most Helpful
I was looking for an easy pudding recipe that didn't require eggs, and this fits the bill perfectly. I don't have soymilk, or fresh lemons, but this works just as well with real milk and bottled juice. For that matter, it's simple to switch the lemon juice out for whatever other type you might be looking for, a bit of cocoa for chocolate, or vanilla or other extracts for a different flavour.
Marvelous! We had a 2 liter carton of soymilk to use up and more than enough lemons. The grater and I had a royal argument so I gave up on the lemon zest and just added extra lemon juice, and that worked out fine! Cut the sugar by half a cup and got a nice, silky pudding. Thank you so much for the recipe! :)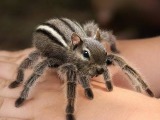 WOw so tasty. I used half regular and half vanilla soy milk because that's what I had. VERY easy. Serve with fresh fruit or has a filling between two layers of lemon cake.