Lemon Soy Swordfish With Avocado Butter
Nimz1466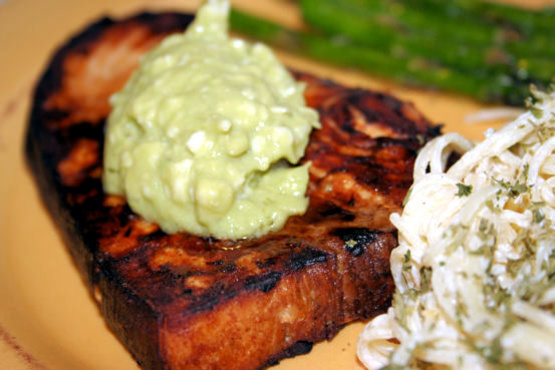 This is an excellent and very flavorful recipe adapted from "The California Heritage Cookbook". I've never had anyone not like it. Any steaky fish should work. The avocado butter is a marvelous accompaniment for any barbecued fish, especially swordfish or salmon.

This recipe is a KEEPER! The Avo butter esp. was so immensely easy and tasty, wicked smooth, and my new fave. Given the way it cuts the sat. fat it is going to be my "go to" holiday butter from here on in. Made a double batch to freeze for the upcoming festives.

I am definetly going to try the exact recipe when I have the proper ingredients on hand! Used lime, and lime zest. Olive oil, coarse dijon mustard, and Cod instead of Swordfish...rebel brat am I.

Personal P.S. I wasn't looking esp. for YOUR recipes (I still say Ree Cypes in my head; thanks for THAT!) only for good fish recipes. I was halfway through the marinade (don't tell my mom her laptop was on the kitchen counter.) when I saw Freddie Cat! A marked testament, I feel, to your contribution. How cool is that!
Fish:.
Combine first 6 ingredients in a large ziploc bag. Add swordfish steaks. Refrigerate for 1-3 hours, turning a few times.
To cook, place fish on a preheated broiler pan. Broil 5-6 minutes on each side or until fish flakes easily when tested with a fork.
You may also barbeque this. If you do brush it with the marinade often.
Serve hot with avocado butter, lemon wedges and fresh parsley sprigs.
Avocado Butter:.
In a small mixing bowl beat butter with an electric mixer until soft and creamy. Beat in remaining ingredients.
Place in a decorative dish and refrigerate until firm and ready to use. A melon baller works great to scoop out balls to place on the hot fish.