Nimz1466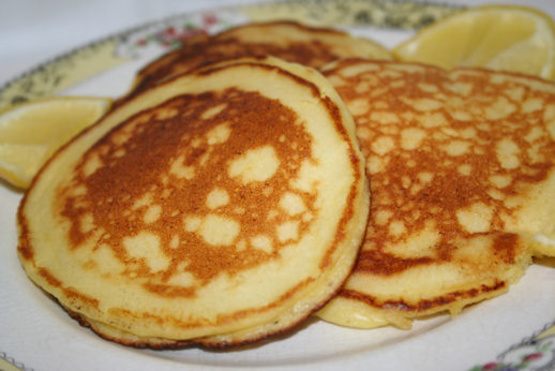 A tangy taste. great with powdered sugar.

Very good, the whole family loved them. A nice serving of protein and calcium, too. Served with choice of powdered sugar and strawberries or blueberry sauce. A little vanilla yogurt with fresh berries would be yummy, too. Would be more lemony with lemon sauce or lemon curd but I didn't want to overwhelm the light texture. Added the zest and next time I'll use white whole wheat or whole wheat pastry flour for even more nutrition. Great recipe, thanks for sharing!
In a bowl, beat the egg whites until stiff but not dry.
Reserve.
In a food processor or blender, combine the egg yolks, cottage or ricotta cheese, oil, sugar, salt, lemon juice and zest (if using), baking powder, and flour and blend until smooth.
Fold in the egg whites.
Meanwhile, heat a nonstick griddle or large, heavy skillet over medium-high heat, then lightly brush with melted butter or oil or spray with oil.
Pour the batter, about ¼ cup for each pancake, onto the cooking surface.
Cook until the tops are bubbly, then turn and cook until the bottoms are browned.
Serve hot with your favorite toppings.