CarolAT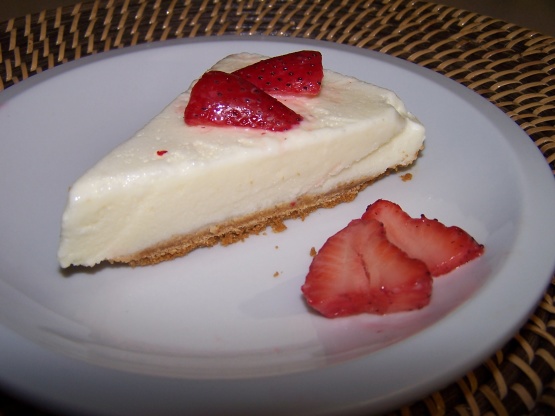 I found this in a 1997 edition of Pillsbury's Fast and Healthy Magazine. DH loves lemon and I have no idea why I have not tried this one. It sounds wonderful.

Top Review by J-Lynn
Okay recipe, not spectacular. It's like a pie made of frozen lemon ice-milk; you know, all crystal-ly and not smooth like ice cream. I could only find "America's Choice" brand lemon sorbet, and it was too sweet and not very lemony. I more than tripled the lemon juice called for in the recipe.
Preheat oven to 350°F.
Spray a 9-inch springform pan with nonstick cooking spray.
Using the food processor and metal blade, combine all crust ingredients.
Process until well mixed.
Press crumb mixture in bottom of prepared pan and bake for 10 to 12 minutes or until lightly browned.
Cool 10 minutes.
Remove the sorbet from freezer and allow to sit at room temperature while while the crust cools.
Meanwhile, cream cheese in large bowl with electric mixer.
With mixer running at low speed, gradually add half and half to cream cheese, beating until well blended.
Add powdered sugar and blend well.
Beat at high speed for 2 to 3 minutes or until foamy.
Spoon sorbet into another bowl and add cream cheese mixture, lemon juice and food color; stir until blended.
Pour into cooled crust; spreading evenly.
Freeze at least 2-1/2 hours or until firm.
Garnish each slice with fresh mint leaves and lemon slices, strawberries or raspberries.
The cooking time includes the time required in freezer.