awalde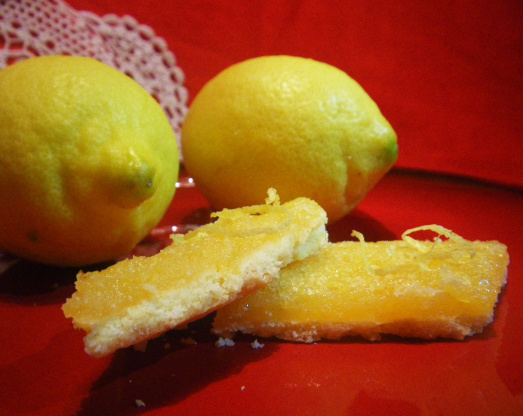 Another New Zealand find. For a variation you can throw a handful of coconut into the egg mixture. Normal size of a slice tin is 35cm long x 20 cm wide x 4 cm deep.

yummo! have made this a few times,but i have found the top of the slice tasted floury and was firm.Made it again yesterday and only put in a couple tbs of sr flour into the lemon mix and it turned out simillar to lemon curd with a thin crust on top.....excellent! :)
Preheat oven to 160°C.
Place flour, icing sugar and butter in a food processor, mix until a ball is formed around the blade (don't use hard butter as it won't form into a ball).
Lined the tin with baking paper to come up a bit over two sides, (this will make removal a lot easier).
Place into a slice tin and press flat.
Bake for 20 minutes.
In same food processor bowl (not need to wash) add eggs, lemon juice, zest, castor sugar and self-raising flour, process until well combined.
Once base has cooked for 20 mins take out and pour in filling and place back in oven and cook for a further 15 - 20 minutes or until it feels sets in middle.