JustJanS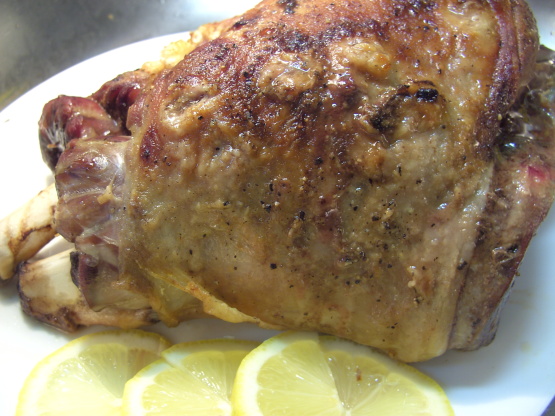 Usually I am not a fan of Hueys recipes, but this recipe is wonderful. I found this recipe whilst watching Hueys Cooking adventures and copied it! Great outcome.

I fix lamb all the time, but this is the first time I've ever added lemon -- what a great option. I followed the cooking times given in the body of the recipe instructions, namely 20 minutes plus another 60 minutes, and had a roast that was nicely done. The Total Times given at the top, which say 20 minutes for prep and 60 for cooking, will give an underdone result. My roast was 2.1 kilos. Thanks for posting.
2 1⁄4 kg leg of lamb

1

lemon, cut into small triangles (12-18 triangles needed)

1

fresh garlic, cut into slivers (12-18 slivers needed)

3

cups chicken stock

200

g diced tomatoes, canned
1⁄2 tablespoon mint jelly
Preheat oven to 220°C fan forced or 240°C normal.
Place the lamb in a large oven tray and cut small, deep slits all over the lamb. Then stud with the lemon pieces and garlic slivers then lightly dust lamb with flour and Season well, sprinkle with oil. Pour about ½ cup stock into the tray and cook in the oven for 20 minutes.
Turn the oven temperature down to 180°C fan forced oven or 200°c normal oven and cook lamb for about another 50-60 mins for a pink rare meat & longer for medium and longer again for well done, basting and adding some more stock to the tray as you do so.
Remove lamb and rest for 10 mins, before carving.
While the lamb is resting, degrease the tray and add 1 heaped tbsp flour. Cook over a medium heat, continually stirring, and add the tomatoes, about 1 cup stock and add mint jelly. Stir well and reduce to a gravy consistency, when ready strain the sauce.
Slice the lamb and arrange on plates, spoon gravy over and serve.