Lemon-Rosemary Marinade for Lamb
ImPat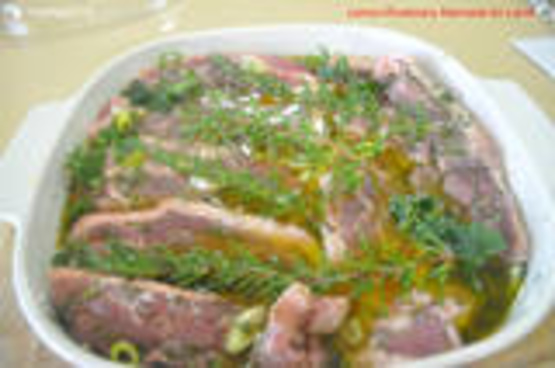 The best cuts of lamb are lamb chops, rack of lamb, steaks, butterfiled leg of lamb. The best cooking technique: Marinate overnight, and the ngrill over medium-high heat to desired doneness.

Top Review by ImPat
I made the full recipe for 1.2K of lamb steaks and they drowned in the marinade, so would cut the marinade in half but the flavours of the herbs were great but the lemon predominated a little too much but then I should have known as the lemons at this time of year are pretty strong on flavour but when the DH put them onto the b-b-q it was total flare up so the steaks went up to the rack and were cooked there and to perfection to my way of liking (a nice pink texture in the centre but the DH likes his well done so he wasn't liking as much) but the DS and DM enjoyed, Thank you Chef mariajane, made for Bargain Basement
Whisk together garlic, shallots, rosemary, oregano, oil and lemon juice, in a medium non-reactive bowl. Use marinade immediately.
If desired, turn marinade into finishing sauce; after removing meat, pour marinade into a non-reactive saucepan, and boil for 3 minutes. Brush on cooked meat just before serving.
Makes enough for 2 pounds of lamb.