Lemon-Rosemary Grilled Chicken
vrvrvr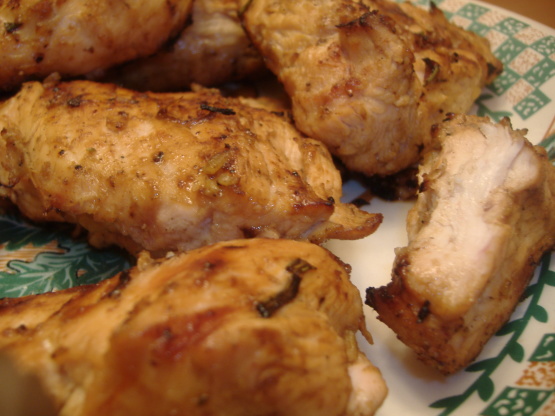 This is delicious as a main dish and is great to add to a salad if you have leftovers. The longer you marinate it, the better.

YUM! This was excellent. Easy to make and quick to cook from scratch. Will help prevent the McDiet during the busy work week. I only used 2 tbsp of olive oil and cooked it covered in a cast iron frying pan with all of the marinade. A new favorite of my daughter's.
In large bowl, combine mustard, rosemary, lemon juice, sugar, oil, garlic, salt, and pepper to taste.
Add chicken.
Toss to coat.
Cover.
Set aside for at least 30 minutes or refrigerate up to 2 hours.
Grill over medium heat, about 8-10 minutes a side.
Watch carefully.