Lemon Rosemary Chicken Thighs
Got from a pamphlet. Prep time includes marinade time
Directions
Whisk together marinade ingredients.
Place chicken thighs and marinade in ziploc; refrigerate 30 min-1 hour.
Discard marinade and grill thighs over medium grill about 6-8 minutes per side or until no longer pink.
Reviews
Most Helpful
Great chicken! I used bone-in, skin-on thighs and baked them in the oven for about 40 minutes at 350F. The flavor from the marinade was delicious. I will try it again with boneless thighs on the Foreman grill this winter!

My whole family loved this, including my picky 4 year old. She asked me to make it again! She ate a whole thigh by herself so I know this is definitely a keeper! We grilled the chicken thighs and it came out so juicy, moist and full of flavor! I served it with mac and cheese (for my little girl) and a greek salad. Thank you so much!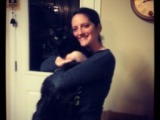 My chicken got stuck waiting in the marinade for about 4 hrs and I can't say that it did a bit of damage. It came out moist, tender and delicious. This is very simple and made with a few basic ingredients, you just can't miss with this one.