Lemon-Rosemary Chicken Breasts
Sageca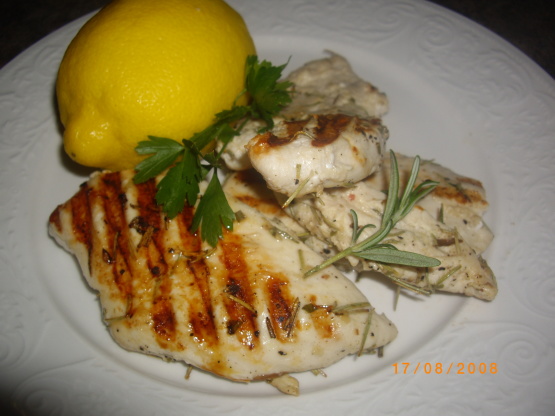 This is so flavorful with the fresh rosemary and lemon. I make this when my garden is growing so I have the fresh rosemary. You can substitute dried rosemary for the fresh, just use 3/4 tsp. I usually serve this with a rice pilaf and veggies.

I made this recipe with these directions. personally, I had to end up baking the chicken at a lower temperature for an extra 15min because the juices burned on the bottom of the broiler pan creating a lot of smoke. My boyfriend and I both agreed the recipe was not very flavorful until we added more salt. There were no instructions marinate the chicken prior to cooking - which is why I believe it came out so flavorless. This just wasn't for us I guess.
Cut 2 thin slices from lemon; set aside.
Squeeze 2 tsp lemon juice from remaining lemon into small bowl.
Add rosemary, salt, pepper, oil and garlic; mix well.
Add chicken breast halves; turn to coat.
Arrange chicken on broiler pan.
Top with lemon slice on each.
Broil 4 to 6 inches from heat for 5 minutes.
Turn chicken, placing lemon slices under chicken.
Broil an additional 5 to 7 minutes or until chicken is fork tender and juices run clear.
Discard lemon slices.