Lemon Roasted Potatoes, Greek Style
Bergy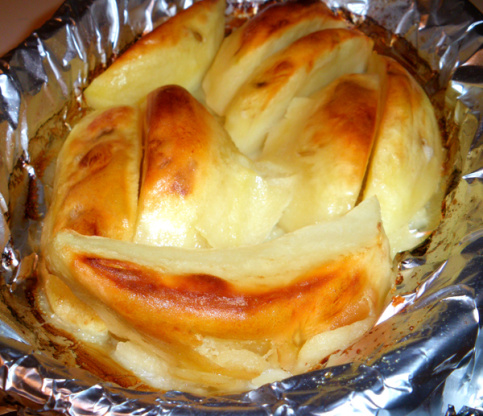 A different way to bake potatoes. Yassou!

The taste of these potatoes was milder than I expected. It took a lot longer to cook than the amount indicated. After 1 1/2 hours in the oven, I popped the dish in the microwave for a few minutes to get the potatoes soft enough for our liking. My husband did not care for these at all, but my daughter enjoyed them. I would add lemon zest to punch up the lemon flavor a bit and perhaps some lemon pepper seasoning. These needed quite a bit of seasoning. A good recipe, but not for all tastes.
Place peeled and quartered baking potatoes in a pan just big enough to hold them in one layer.
Place lemon juice in a one-cup measure.
Add enough water to make one cup liquid.
Pour lemon and water over potatoes.
Drizzle oil over potatoes.
Bake uncovered at 400 degrees for 45 minutes to an hour, adding more water as needed, until potatoes are golden brown and soft.
Salt and pepper to taste.