Alex B.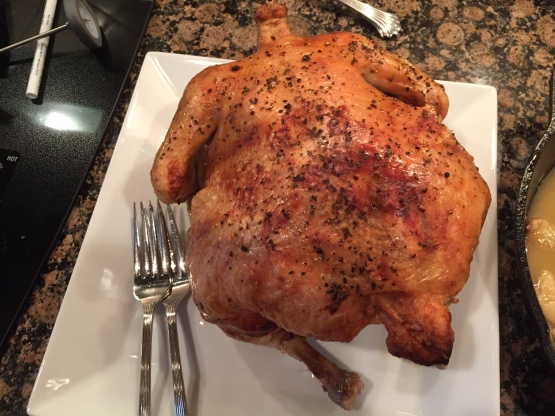 This recipe has a great taste and the chicken always comes out moist and tender.
sea salt & fresh ground pepper

1

lemon

1

white onion
1⁄4 cup water
Preheat oven to 400 degrees Fahrenheit.
Check your chicken's cavity for giblets and remove those. Rinse the chicken with water and pat dry with a paper towel.
Place the chicken an a cast iron skillet.
Rub the outside of the chicken with olive oil.
Slice the onion and lemon and place around the chicken.
Take a wedge of the lemon and a slice of the onion and place in the chicken's cavity. Add a few of the garlic cloves and sprig of rosemary.
Place the remaining garlic cloves and a few sprigs of rosemary around the chicken in the pan.
Finally, thoroughly salt and pepper the outside of the chicken.
Pour approximately 1/4 cup of water in the bottom of the pan before placing in the oven.
When the chicken reaches 165 degrees, it's done. This should take about 1 to 1.5 hours, depending on the size of the chicken.