Prep 10 mins
Cook 15 mins

This is an easy, delicious way to cook asparagus. The light lemon flavor is lovely.
Directions
Preheat oven to 375°F.
Prepare asparagus. First rinse thoroughly and cut off fibrous ends. To do this, pull one spear out of the bunch. Gently bend the spear until it snaps. Then cut the remaining spears at the same length as the first.
Arrange asparagus in a baking pan with all spears in one layer.
Drizzle with olive oil and lemon juice, season with salt and pepper and toss within baking pan to combine. Rearrange into one layer.
Roast for 12-15 minutes or until crisp-tender.
Reviews
Most Helpful
*Reviewed for Aussie forum recipe swap Oct 09* Sensational asparagus! So easy and tasted fantastic. The olive oil and lemon is the perfect flavours for roasted asparagus. roasted for 12 minutes and spot on with the time. Photo also being posted

This couldn't be easier, and yields a tasty version of roasted asparagus. The lemon really makes the flavor pop. I roasted the asparagus for 12 minutes, then tossed them around a bit, and put them back in for another 3 minutes. Perfect! Thanks for posting. Made for Spring PAC 2009.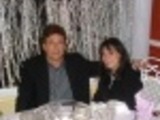 A KILLAH recipe. Made for #39 A-NZ Recipe Swap.