PaulaG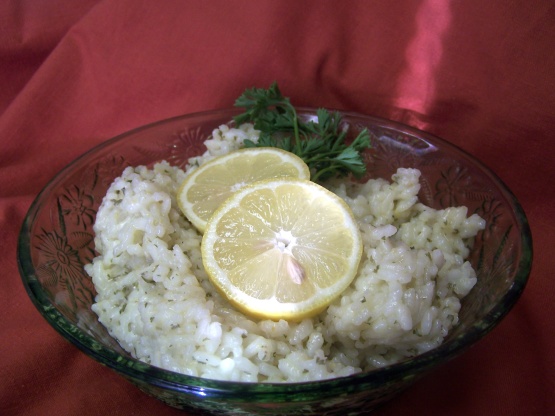 Lemony, but not over-powering. In my opinion, the perfect accompaniment to simply-prepared grilled fish, especially salmon.

Wonderful risotto with a very subtle lemon flavour. Served it with crab cakes. The only adjustment I made was to cut the recipe in half for two of us. Thanks for a lovely comforting dish.
Bring the broth to a simmer in a saucepan over medium heat; reduce heat to low and cover to keep warm.
Melt 1 1/2 TBS butter with the olive oil in a large heavy sauce pan over medium heat.
Add shallots to this and saute until tender, (3-5 minutes).
Add rice and stir for 1 minute.
Add wine and stir until evaporated, about 30 seconds.
Add 1 1/2 cups hot broth, and simmer until absorbed, stirring frequently to prevent sticking.
Ladle in the remaining broth, 1/2 cup at a time, allowing broth to be absorbed before adding more, and stirring frequently until rice is creamy and tender.
You will use all the broth, and the key is to do this simmering slowly; it will take about 35-40 minutes.
When all the broth has been absorbed, stir in the cheese and remaining 2 TBS butter.
Stir in the parsley, lemon juice, and zest.
Season to taste with salt and pepper, and serve.