lets.eat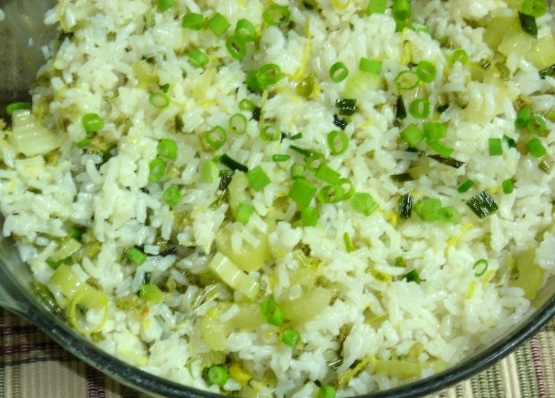 The lemon flavor is quite pronounced, we like it as it is, but if you are uncertain use less than what is written. 2 Tbsp. lemon rind equals around 2 lemons-depending on the size of your lemon.

Easy to make and get to the table. I used regular onion instead of the green and used Jasmine rice. I used 1 T. of lemon zest and squirted lemon into the rice water, then tasted the rice when it was almost done and added a little more to my taste. Very tasty dish that we enjoyed along with swordfish and coleslaw!
Melt butter in a large skillet; add celery and the green onions, saute until the celery is tender. Stir in the cooked rice, lemon rind, salt, and pepper; cook over low heat, about 2 minutes or until thoroughly heated. Sprinkle with optional additional green onions.