Boomette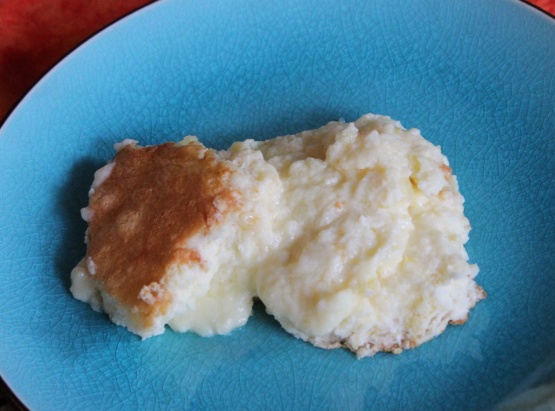 From C&H Sugar bag: "Delicate cake on top of refreshing lemon sauce." I omitted the lemon rind and used bottled lemon juice, and the flavor was pleasantly mild. I think this dessert would be better cooked (and served) in six 6-oz ramekins (decrease cooking time).
wow this lemon puff pudding is so good. Great taste of lemon. In the first batter, I used 1/2 cup of splenda. And with the egg whites, I used the 1/2 cup of sugar. That way I was able to cut the calories from all the sugar. This is a light dessert, so yummy. Thanks laurenpie :) Made for PAC Spring 2013
Preheat oven to 325 degrees.
Cream butter, 1/2 cup sugar and flour in mixing bowl. Add egg yolks, beat well. Stir in lemon rind, juice and milk.
Add salt to egg whites and beat until stiff; gradually beat in remaining 1/2 cup sugar; fold into first mixture.
Pour into 1-1/2 quart buttered baking dish; set dish in shallow pan containing boiling water 1" deep. Bake in 325 degree oven for 50-60 minutes, checking often to avoid burning top of cake.
Serve warm.