ImPat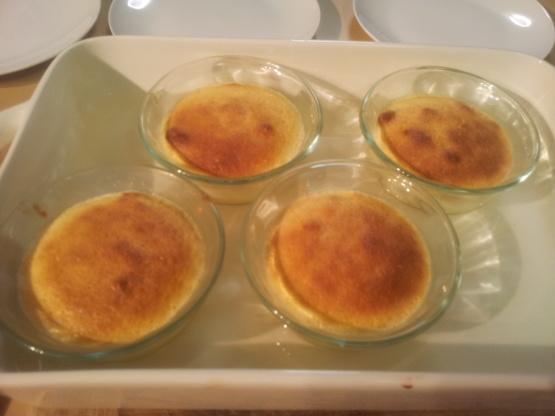 Found this in Taste of Home Magazine and it sounds wonderful. Tangy lemon flavor with creamy souffles, recommends dressing up each serving with lemon peel or other garnish. What a wonderful taste of lemon (I put in a little extra as I like it tart) and the cake soufle mixed with the lemony pudding. YUM!

Top Review by ImPat
I doubled the recipe and it was so easy to bring together, the only complaint I had was from the DH - he would have liked a bigger serve. It had good lemon flavour but still quite sweet (so would look at lowering the amount of sugar but I was the only one that thought so. Thank you Bonnie G #2, made for Rookies tag game.
In a small mixing bowl, beat egg yolk until slightly thickened.
Gradually add sugar, beating until thick and lemon-colored.
Beat in the milk, butter, flour and salt.
Ltir in lemon juice and peel.
In a small mixing bowl, beat egg white until stiff peaks form.
With a spatula, stir a fourth of the egg white into lemon mixture until no white streaks remain. Fold in remaining egg white until combined.
Divide between two ungreased 6 ounce ramekins or custard cups.
Place in an 8 inch square baking dish; add i inch of hot water to dish.
Bake at 350 F for 25-30 minutes or until tops are golden brown.
If desired, sprinkle with coarse sugar, and garnish with pansies and mint. Serve immediately.