JustJanS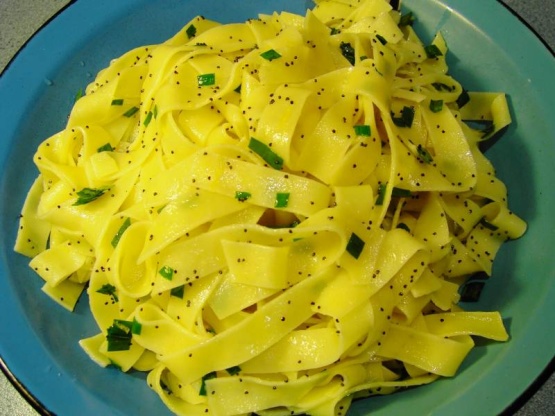 Tasty noodles, My DH loves noodles. The recipe comes from Gourmet.

These are tasty! The combination of flavors is refreshing. I served his along side a sauteed chicken greast and was in heaven. The fresh lemon peel adds great flavor, although I think I might try a little dash of garlic next time to see what that adds. All in all a delightful side dish: colorful and flavorful. Thanks Barb!
Cook noodles as directed on package.
While noodles are cooking, lightly toast poppy seeds in a dry small skillet over moderately low heat, stirring, until just fragrant, about 2 minutes.
Reserve 1/2 cup cooking water and drain noodles in a colander.
Add butter and zest to warm pot and swirl until melted.
Add noodles and toss, adding enough of reserved cooking water to keep noodles moist, then stir in poppy seeds, chives, salt and pepper to taste.