Dine Dish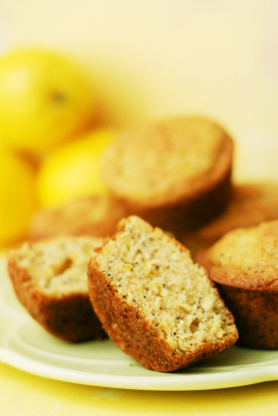 These moist and delicious muffins are sure to be a hit at your next ladies brunch or tea!

Top Review by pinkro
I love this recipe, made it three times so far. They do rise nicely actually (I've posted a pic), and I do feel for every poster who got flat or sunken tops. Whoever braves baking deserves stellar results, for baking is not for the faint of heart.

Here's what I think:
I don't know how essential the eggs' temperature is (frankly, I never take the time to pre-warm the eggs; by the time they're mixed with the fat and sugar or beaten fluffy they're not going to be that cold anyway). But:

A. When the recipe says in steps 6, 7 and 9 "With the mixer on low speed", "Beat just until smooth" etc, etc., keep in mind that muffin batter needs to be mixed very, very little, so the dry ingredients are just moist. To me that means no mixer for mixing, but a wooden spoon, and "mixing" means lifting up and down with the spoon through the batter about 5 times, not more (5 turns for the dry ingredients, 5 for the yoghurt, etc) until the batter is barely mixed. Beat it more than that, and the wheat gluten will do something funny (resulting in dense muffins), the air from the beaten egg whites (that's supposed to make the muffins fluffy) will go wasted, etc.

B. Try mixing the baking powder with lemon juice before adding it to the batter. It will foam a lot, and that's exactly what it's supposed to do.

As one of my friends says, baking is a completely different beast compared to regular cooking. It's a bunch of chemical reactions, so you need to be careful with the amounts, the mixing, and temperatures. Nothing like that in soup or steak. :-) Here's to great, fluffy muffins!
Preheat oven to 350°F Coat muffin tin with nonstick cooking spray.
In a large bowl, cream the butter and sugar until fluffy.
Add the egg yolks, one at a time.
Beat well after each.
In a separate bowl, stir together the dry ingredients, poppy seeds, and lemon zest.
With the mixer on low speed, add the dry ingredients to the creamed mixture, alternating two times with the buttermilk, then lemon juice, and then vanilla.
Beat just until smooth.
In another bowl, beat the egg whites until soft peaks form.
Gently fold them into the muffin batter until blended.
Spoon the batter into the prepared pan, 3/4-full.
Bake at 350°F for 20-25 minutes or until a toothpick inserted in the center comes out clean.
Cool for 5 minutes before removing to cool completely.
I sometimes sprinkle the muffin mixture with sugar prior to putting in the oven just to add a little extra sweetness.