Lemon Poppy Seed Fruit Salad, Diabetic
ImPat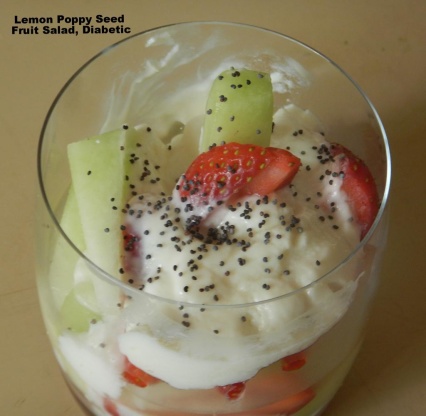 So simple and perfectly delicious made with summer fresh fruits. It's low in fat and everyone in the family will love it, at least everyone here does,

Top Review by ImPat
I made 2 of these last night for the DM and myself using strawberries and honeydew melon and a vanilla yoghurt - I had already given the DM hers when I realized I had forgotten the poppy seeds so they just went on mine and the as I have fruit left over we shall be having another one tonight. We both thoroughly enjoyed our guilt free dessert, thank you Annacia made for Everyday A Holiday tag game.
Have the cantaloupe and strawberries chilled and ready.
Cut the cantaloupe in half, remove seeds then peel, slice and chop (reserve the other half for another purpose).
Place in mixing bowl.
Wash and cut the strawberries and add to the melon.
Mix the yogurt with the poppy seed and gently stir into the melon and berries.
Peel and slice the banana and fold it into the mix.
Sprinkle the top with the ground mace if desired.
Serve at once or chill up to 4 hours.