Katzen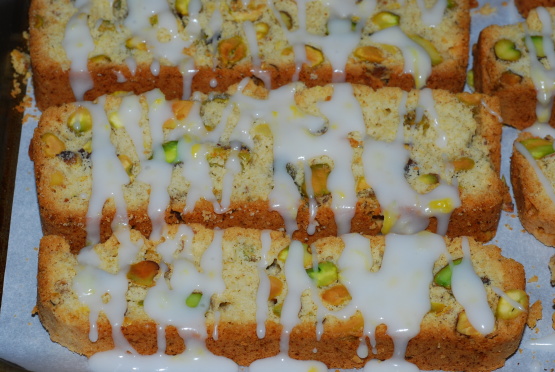 The pairing of lemon & pistachio makes for a great, crisp cookie. The recipe comes from the 1999 cookbook, Cookies for Christmas. Preparation time does not include the initial cooling time.

Top Review by Katzen
I really enjoyed these biscotti! I was fortunate to have a zesty lemon - it only took one lemon to make all of the zest I needed - and I'll admit to using very rounded measures, too. One thing I love about pistachio is how easy the slice in biscotti, so I just threw mine in whole. I used lemon juice in the icing, and when I tasted it, it did seem rather tart, but when placed on the biscotti, it was a perfect contrast! Wonderful, Syd - thanks for posting (although I do think next time I'll toss in some dried cranberries and almonds like your Syd's Biscotti recipe!) Made for PRMR Tag.
FOR THE COOKIE ~ Preheat oven to 375 degrees F & lightly grease several cookie sheets or 1 LARGE one.
In large mixing bowl, beat butter with electric mixer on medium-high speed for 30 seconds.
Add sugar, baking powder & salt, beating to cimbine & scraping sides of bowl occasionally.
Beat in eggs & vanilla until combined.
Beat in lemon zest & as much of the flour as you can with the mixer.
Using a wooden spoon or your hands, stir or knead in remaining flour & pistachio nuts.
On lightly floured surface, divide dough into 3 equal portions.
Shape each portion into an 8-inch-long loaf.
Flatten loaves to about 2 1/2 inches wide, & place them at least 3 inches apart on prepared cookie sheet(s).
Bake 20-25 minutes or until golden brown & tops are cracked. (Loaves will spread slightly.).
Cool on cookie sheet for 30 minutes,
When cooled, preheat oven to 325 degrees F, then transfer loaves to a cutting board to cut each loaf into 1/2-inch-thick slices.
Place slices, cut sides down on previously used cookie sheet(s), & bake 8 minutes.
Turn slices over & bake 8-10 minutes more or until dry & crisp.
Transfer to wire rack & cool.
FOR THE ICING ~ In a small mixing bowl, stir together sifted powdered sugar & 1 teaspoon lemon zest.
Stir in enough lemon juice (or milk) to make icing of drizzling consistency.
Either dip 1/4 of one end of each cookie into icing OR drizzle each with icing.