Kathy228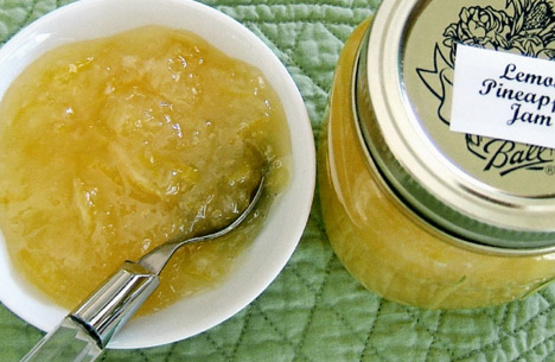 A not-too-tart combination. The lemon is delightful on cream cheesed crackers, buttered toast, or a cake filling.

Made this today. Would have rated it 5 stars except amount of lemons is questionable. I used 10 lemons and only came up with 1 C. puree, after removing the white pith and seeds. Solved that problem by adding a can of frozen pink lemonade after draining off most of the syrup from the frozen lemon pulp. Used wine (pino grigio) instead of water. It was a little funky colored due to the pink lemonade, but added a few drops yellow and pink food coloring when it was all cooked until the color mellowed out. This set nicely and made 12 4-oz. jars and 1 little dish for my fridge. Really nice tart/sweet taste, even hubby liked it and he's not a jam fan. Thanks for the recipe!
Scrub then peel the lemons.
Put the peels in a small sauce pan. Cover with water and simmer for 20-minutes or until the peel can be pierced with a fork. Drain, rinse, cool and chop the peel.
Remove the excess, thick, white pith from the peeled lemons.
Cut the peeled lemons in quarters. Slice out the white membranes and discard.
Puree the peeled lemons in a food processor.
Into a heavy saucepan, measure 2-cups lemon puree, 1-cup chopped peel, 2-cups undrained, crushed pineapple (a total of 5-cups of fruit is needed).
Add the water or wine.
Gradually stir in the dry pectin.
Bring to a a hard boil, add butter, and boil for one minute.
Add the sugar. Bring back to a boil and boil hard for one minute. Skim if necessary.
Ladle into seven, half-pints jelly jars, and process.