Lemon Pine Nut Green Beans
Parsley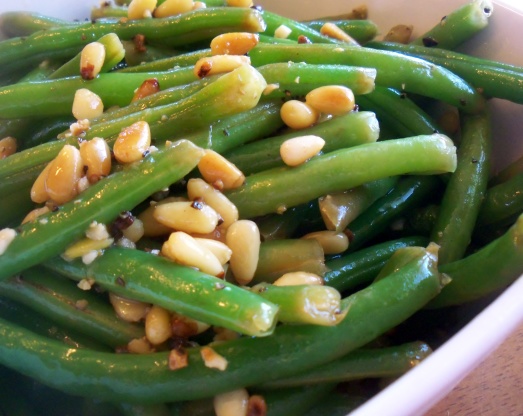 Absolutely delicious! These were a crowd pleaser to even the picky eaters. Extremely simple and so yummy!! This is the actual recipie I got off Food Network's website. I like to add a little more lemon and pine nuts for the additional flavor.
Blanch green beans in salted boiling water. Drain and pat dry.
In a large skillet melt butter over medium to medium high heat.
Cook shallots approximately 1 minute. (Stir often to prevent burning).
Add pine nuts to toast for an additional minute.
Add green beans and toss (just enough to warm and coat.).
Add lemon juice, salt, and pepper. I like to add some fresh lemon peel as well. Gives it a great additional taste.
Toss well to combine all ingredients.
ENJOY!