katew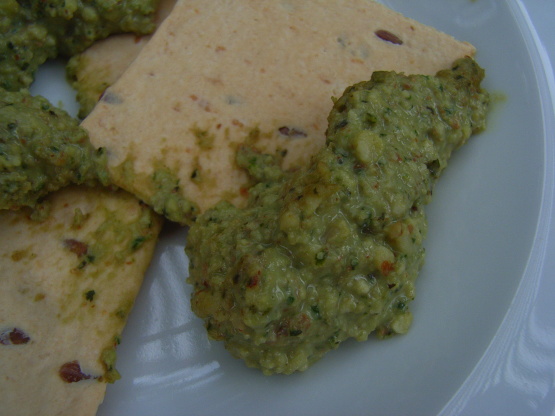 A lemony fresh pesto dip to serve with raw veggies.

Top Review by katew
Perfect recipe for me as I have basil and lemons galore in the garden right now. This was easy to do and great to eat.Versatile too as I had it with crackers and DD had it on noodles. I used almonds instead of walnuts and it made a generous amount.
Pulse the basil and spinach in a mini food processor until finely chopped. Add the nuts and cheese. Whirl until the nuts are finely chopped. Add the tofu, salt and pepper. With the motor running, drizzle in the olive oil. Add the lemon zest, and whirl to blend.
Scoop the pesto into a bowl. Surround it with your selection of raw veggies, including red bell pepper strips, cherry tomatoes, etc. The dip will keep up to 2 days in the refrigerator.