Derf2440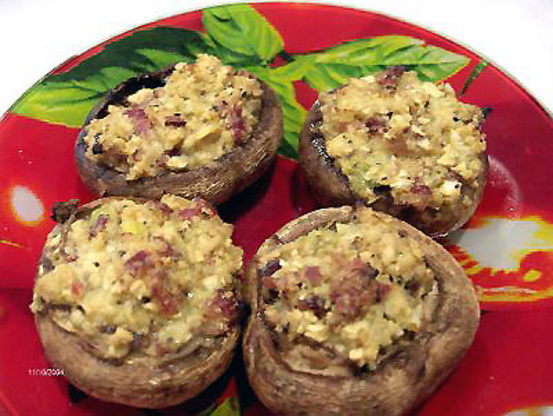 Savory, easy to prepare, appetizer

Miller, these mushrooms were very wonderful!! Having stuffed outselves with a huge lunch on Sunday, we did these up for supper, they were all we needed!!, with a few pickles, a piece of cheese, and a glass of wine. Thanks for sharing, they will certainly be our next appetizers for quests!! (wished we had doubled it this time!!) — posted Apr 30, 2002,UPDATE: Made these today for Thanksgiving appetizer, as before , very tasty didn't change a thing, we loved 'em, thanks Miller for sharing a good one.
Preheat oven to 400°F.
Lightly spray a shallow baking pan with vegetable oil spray.
Wipe mushrooms with a clean, damp cloth.
Remove stems and set mushroom caps aside.
Discard lower half of stems and chop upper half of stems very finely.
In a small bowl, combine chopped stems with remaining ingredients.
Stir to mix well.
Stuff mushroom caps with mixture.
Place stuffed mushrooms in prepared pan and bake 8 to 10 minutes.
Serve immediately.