Lemon Pepper Baked Sweet Potato
gailanng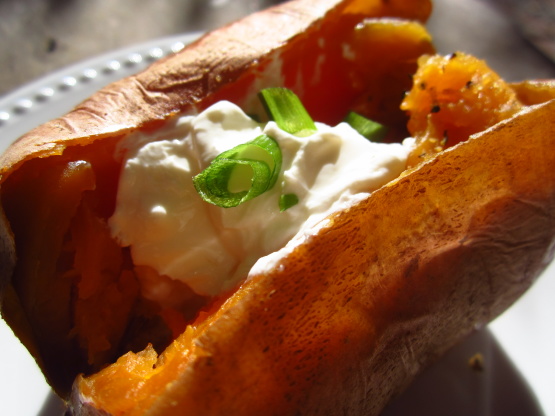 I prefer a baked sweet potato over an Idaho but I don't like them dolloped with extra sweetness like other recipes using brown sugar and cinnamon or honey. The contrast of the sweet potato with the lemon pepper seasoning gives it a balance that works for me so maybe you'll like it too!
Do not puncture potato since sweet potatoes will drip juices while baking. Wrap in foil and bake at 400 degrees for about 45 minutes depending on size.
Slice open and top with butter, cheese and lemon pepper seasoning in that order so cheese has an opportunity to melt. Dress with sour cream and chives. Sprinkle with additional lemon pepper.