Lemon-Pepper and Vegetable Salmon
Pagan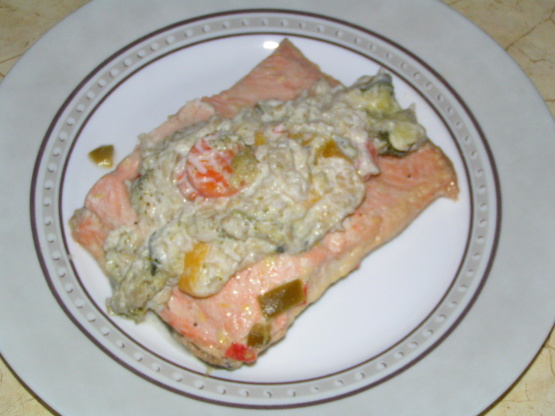 Preparation is simple but looks great when served. This is typically an elegant Spring dish. The vegetables used are yellow summer squash, zucchini, sliced carrots, broccoli, and cauliflower. A fresh green salad would work as a topping, as well. But the real factor here is the TASTE. You can use any type of fish with this recipe, as well. We have made this with flounder, bass, and trout, as well. It's YUMMY! And don't worry, if you don't like sour cream. You can't even taste it once it's all done. [Heavily adapted from bon appetit.]
1

cup fat free sour cream

2

tablespoons fresh lemon juice

2

teaspoons fresh lemon juice, combined with above and divided

1

teaspoon lemon peel, finely grated and halved

2

tablespoons honey

1

tablespoon olive oil

2

teaspoons olive oil, plus additional for brushing

1

teaspoon balsamic vinegar

2

tablespoons green onions, finely minced

36

ounces salmon fillets, 6 steaks of 6 ounces each

2

cups vegetables, fresh steamed of your choice or 1 1⁄2 cups spinach leaves, whole
1⁄4 cup dill sprigs, small and fresh
1⁄4 cup tarragon leaf, fresh

1

pinch fleur de sel, to taste or 1 pinch salt, sea and to taste
Whisk sour cream, one tablespoon lemon juice, balsamic vinegar, and 1/2 teaspoon lemon peel in small bowl. Season with sale and generous amounts of finely grated black pepper. Set aside.
Whisk honey, 1 tablespoon olive oil, green onion, 2 tablespoons lemon juice, and remaining 1/2 teaspoon lemon peel in an 11x7x2-inch glass baking dish. Add salmon fillets and turn to coat.
Cover and chill for about an hour, turning salmon fillets occasionally.
Position oven rack in top third and preheat to 400 degrees F. Line large, rimmed baking sheet with foil and brush with olive oil. Transfer salmon fillets onto baking sheet and pour marinade over evenly.
Roast until salmon is opaque in center, about 13-15 minutes.
Meanwhile, toss leaves and sprigs [spinach, dill, tarragon] or steamed vegetables, remaining 2 teaspoons lemon juice, and remaining 2 teaspoons olive oil in medium bowl. Season to taste with fleur de sel and pepper.
Place 1 salmon fillet per plate, top with salad or vegetables and drizzle with lemon-pepper sauce. Garnish with lemon wedges and serve, passing additional sauce alongside --.
OR.
Mix salad or vegetables into the lemon-pepper sauce, and top salmon fillet with mixture. Garnish with lemon wedges and serve.
NOTE: Fleur de sel is a type of sea salt.
NOTE 2: Pictured, is the 2nd serving style, and our favorite.