cayde9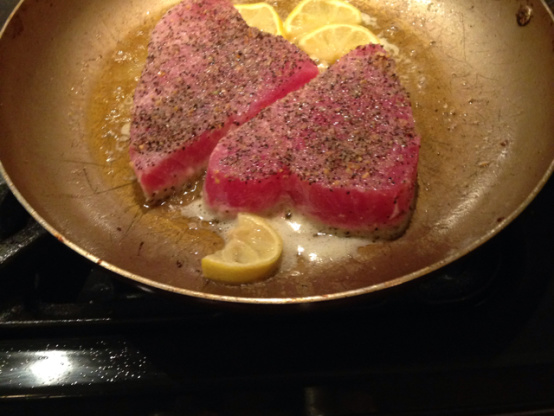 I used a similar technique and ingredients from a recipe for chicken piccata. Dinner was ready in no time AND we enjoyed it!

What can I say that hasn't been said....DELICIOUS!!! I fixed this last night with recipe#170715#170715 and zucchini and also recipe#392723#392723 because we had unexpected company and I only had enough tuna for DH and myself. (I didn't want to share it...I did let them have a bite though.) Thank you for such an easy, quick and delicious recipe. Made for SPRING PAC 2010.
Sprinkle salt and black pepper on both sides of the tuna steaks.
Squeeze fresh lemon juice over the steaks.
Heat 1 tbs of oil in a pan.
Add 1 tbs of butter.
Turn the heat down low to medium-low.
Place the tuna in the pan.
Add capers, and squeeze more lemon juice into the pan.
Add slices of lemon to the pan and 2nd tbs of butter.
Shake the contents of the pan a bit and let cook for about 4 minutes.
Turn the steaks over and cook for another 5 minutes.
Serve the tuna with the slices of lemon and capers from the pan.
NOTE: As some reviewers have suggested, you may not need to cook as long as the specified time. It's your personal preference how well done you like the steaks. Thanks for all the wonderful reviews!