Lemon Pasta With Lemon Thyme
PanNan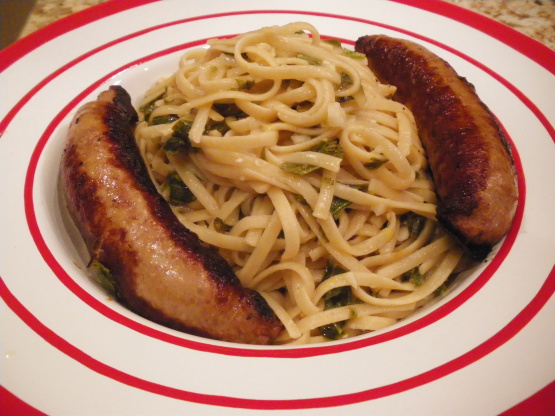 This is a slightly different take on most lemon pastas because it also uses one of my favorite herbs, lemon thyme in addition to the lemon. It is superb served with a few grilled shrimp as well. As a no cook sauce its fast as well, but do let it marinate for the 2 hours. If you don't have lemon thyme you can sub basil or parsley

Top Review by PanNan
I loved the lemon flavor of this pasta. I wasn't able to find lemon thyme, so I used basil instead. The herb flavor was pretty strong, and I might cut back the amount next time. For dietary reasons, I couldn't use the pine nuts, but think they would have been wonderful in the dish. We served the pasta with grilled Italian sausage. Made for PAC Fall 2009.
Mix together the oil, garlic, thyme, lemon zest and juice. Season with salt and pepper. Add the toasted pine nuts, stir well, and allow to sit for a couple of hours for the flavors to meld. Cook the pasta in boiling salted water until it is al dente. Just before draining, remove a small cup of pasta water.
Drain the pasta, and return it to the pot with the lemon sauce over high heat. Add a little pasta water to prevent it from drying out. As soon as it is piping hot, remove from the heat and serve. Scoop the pine nuts off the bottom of the pot to top the pasta, and serve topped with grilled shrimp if using. Offer additional cracked black pepper if desired.