Annacia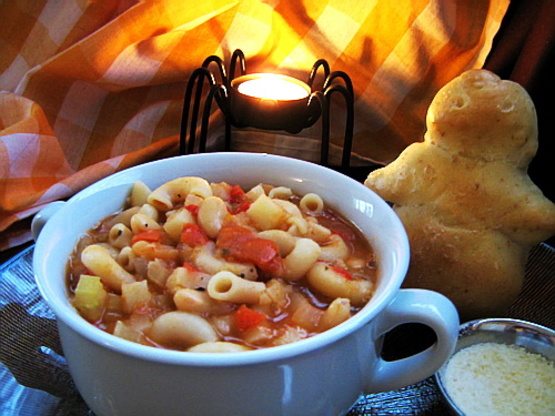 This is a hearty, thick soup! You can even say Stoup! Meatless! Good for those trying to avoid meat! The lemon bring an other flavor to it! Using can beans makes this quicker then fresh but if you have the time go for the dried beans.

This tastes wonderful. I have always thought of Pasta E Fagioli as a soup but not in this case, even with adding water as needed throughout the cooking to keep it liquid enough to not there is really no liquid left in the pot. That is just so that you'll know what to expect because it certainly doesn't diminish this lovely dish at all. It's hearty, filling and delicious. The lemon adds a fresh note that sets it all off. I skipped the jalapeno (so that dh would eat it), used the canned beans without draining (I never drain them for soup, too much nutrition to waste!) and I had to use small elbow pasta as it was the smallest thing I had on hand. It's a lovely Fall dinner :D.
1⁄2 lb ditalini, half cooked

3

tablespoons olive oil
1⁄2 onion, minced

4

garlic cloves, minced

1

jalapeno, seeded and minced

1

bell pepper, seeded and diced

1

stalk celery, chopped

1

potato, diced finely

2

cups cannellini beans (1-16 ounce can drained)

1

(28 ounce) can tomatoes with juice

3

tablespoons lemon juice

2

tablespoons parsley, chopped
1⁄2 tablespoon oregano, chopped

1

tablespoon fresh rosemary, chopped
salt and pepper
Heat oil in large pot and saute onions, garlic, peppers, celery, and potato for 5 minutes.
Add beans and tomatoes and cook for 15 minutes.
Crush about a 1/4 cup of the beans to get it to a nice and thick consistencey.
Add lemon juice, parsley, oregano, rosemary and pasta and cook unti pasta is done.
Season with salt and pepper.