Lemon & Passionfruit Butter
Tisme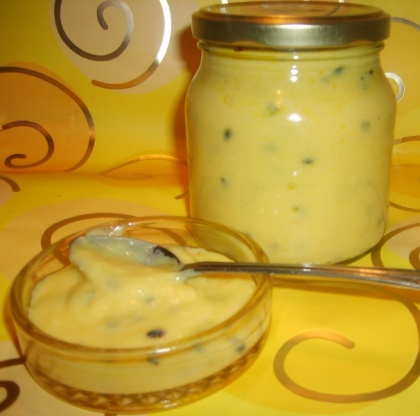 This recipe was torn from a magazine whilst watching my daughter at her swimming squad training. I think it was a Woman's Day. Makes about 2 cups

excellent recipe. I used a cup of fresh passionfruit, and a cup of lemon juice. This came out fairly tart, but I like it like that :) I got 4 small jars, only one left .......made for Aussie swap june 2010
In a heatproof bowl, whisk together the eggs and sugar until combined. Place over a pan of gently simmering water.
Gradually add all remaining ingredients.
Whisk over low heat 10-15 minutes, until the mixture thickens and coats the back of a wooden spoon. Do not boil.
Pour into sterilised jars and seal.
The bottles can be stored in a cool place but must be refrigerated once opened.