loof751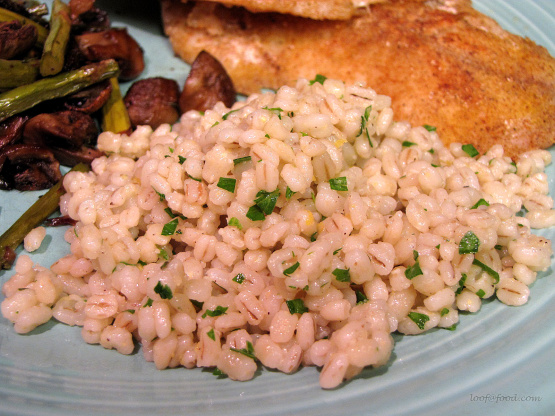 From Cooking Light. The recipe originally called for water, but I believe that broth adds a great deal of flavor. I use either chicken or vegetable broth. You can also make this with regular barley, but need to adjust the cooking time in the first step.

WOW, this is fantastic! As a diabetic I love barley for two reasons, it's taste and texture & it has the lowest G.I. (glycemic index) of any grain. I've made breakfast cereal with it and bread but somehow it never occurred to me to treat it as a side dish. Let me tell you that barley will now be replacing rice and potatoes fairly often on my table. this recipe is very simple and delivers really outstanding flavor that should please everyone in the family. You may not want to tell them that it's very healthy. Lastly, I want to say that I didn't use the ask for oil, it's a small amount that I really saw no need for and as I was quick frying the meat strips (something that I very rarely do) I was happy not to add any to the barley.
Combine the water or broth, olive oil and pepper in a medium saucepan and bring to a boil.
Stir in the barley, cover, reduce heat and simmer 13 minutes or until tender and liquid is absorbed.
Remove pan from heat; stir in cheese, lemon zest, and parsley. Cover and let stand 5 minutes. Fluff with fork before serving.