Lemon Orzo Salad With Zucchini And Fresh Herbs
Prep 15 mins
Cook 15 mins

This is one of those quick lunch salads that tastes great. If you are tired of sandwiches, try this different luncheon salad. Serve with pita chips.
Directions
Cook the orzo until tender but firm.
Drain in a colander; rinse under cold water to cool, and drain well.
Mix the orzo, zucchini, parsley, and mint in a large bowl with a large spoon.
Whisk the remaining ingredients in a small bowl.
Pour over the salad and mix with a large spoon.
Most Helpful
This is a nice light refreshing salad. I'm not very found of raw zucchini so I used half zucchini and half cucumber, with good results. You could go completely with cucumber if you wanted.

This was a super tasty salad to pack for my lunch. In order to round it out, I added some diced grilled chicken breast, and it made a satisfying and delicious meal!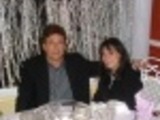 I tripled this recipe for our pool party guests, and let it sit in the fridge overnight. Very tasty and beautiful salad, paired perfectly with our Hawaiian Chicken Kabobs. Thanks for sharing this luscious salad.