mianbao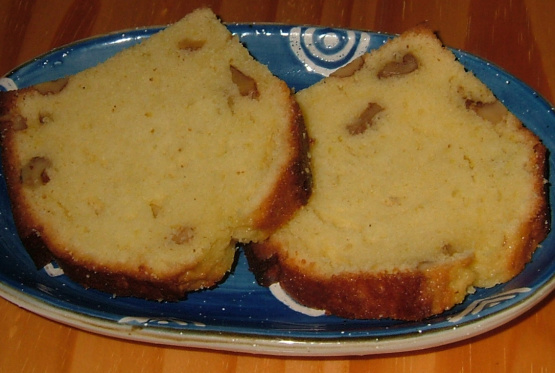 I have not tried this recipe. I got it from New Hampshire Police Association Cookbook. The recipe was submitted Rose Mosto.

This is very good! It's lemony, moist and I bet it will be even better tomorrow. It was also very easy to make. My oven was running a little hot, and mine got a little darker than I would have liked, but that isn't the fault of the recipe. Thank you very much for posting this lovely recipe.
In medium bowl, combine butter and sugar; beat well.
Add eggs, lemon peel, extract and milk.
Beat by hand to blend.
Add flour, baking powder and salt, stirring just until moistened.
Fold in pecans.
Turn batter into greased and floured 9x5x3 loaf pan, or 4-5 mini-loaf pans.
Fill pans half full of batter.
Bake 45-60 minutes in preheated 350 oven.
Check with toothpick to see if it is completely baked.