Lemon Meringue Pie Easy Deep Dish
mkef35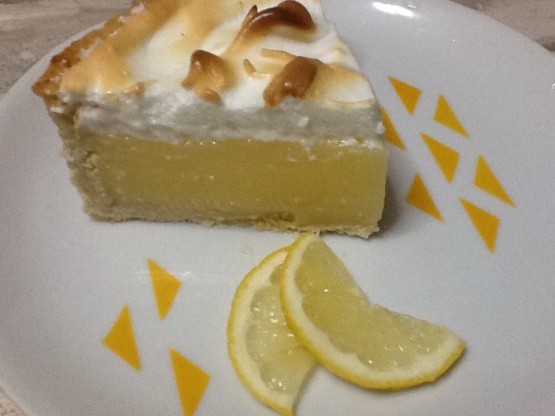 A delicious buttery crust , and a creamy lemon filling flavored with a dash of lemon zest topped with a luscious meringue make this deep dish lemon meringue pie a real treat. Super easy to make , light and fragrant with lemons it makes a wonderful dessert.
I made this as it was beautiful but the texture was way too stiff, example: As I served this pie and guests were eating it a bite fell off the fork and actually bounced. I would definitely cut the cornstarch down. under 7 tablespoons. I remade the pie a few weeks later lowering the ratio of cornstarch and then the pie was wonderful. Truly yummy!
Mix flour,butter,powdered sugar and salt in a bowl.
incorporate butter in flour mix well.
add water.
mix well.
knead gently into a bowl.
place on a lightly floured surface and roll out to fit your pie pan.
press into your pan ,flute the edges pierce the bottom and sides with a fork well.
bake in oven at 420 degrees for 15 to 20 minutes or until lightly golden brown.
in a large pot add 2 cups of water ,3/4 of a cup freshly squeezed lemon juice,1 dash of finely grated lemon zest,1 cup of sugar,3 egg yolks and 10 tablespoons of corn starch.
whisk well with a wire whisk.
turn on heat to medium and continue stirring with a whisk till mixtures thickens and just starts to bubble then remove from flame whisk in 2 tablespoons butter and let cool stirring occasionally.
when the custard filling is cool and the pie shell are cool, fill the pie shell with the custard and spread evenly.
in a chilled bowl whisk three egg whites until lightly foamy.
add some 1/4 sugar and 1/8 of a teaspoon of salt and continue whisking until light peaks stay on your whisk.
spoon or pipe on top of the pie.
bake in oven at 420 degrees or till meringue is lightly golden brown on top.
chill thoroughly before serving.