Alia55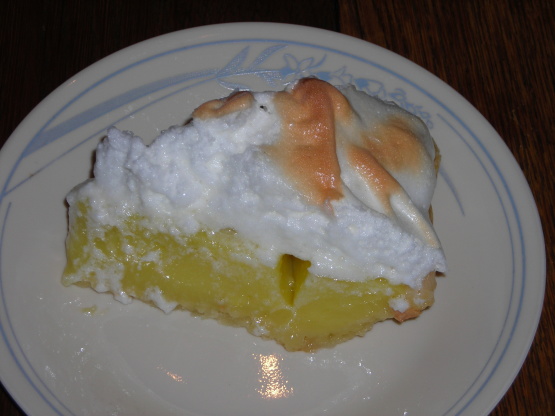 Nothing beats homemade Lemon Meringue Pie. Time does not include chill time.
For filling, whisk sugar, water, and cornstarch in a heavy-bottomed saucepot.
Whisk in egg yolks and salt and cook over low heat for 5 minutes, whisking constantly.
Increase heat to medium and, still whisking, cook until filling becomes glossy and thick, about 5 more minutes.
Remove from heat and strain.
Stir in lemon zest, lemon juice and butter until butter dissolves.
Pour immediately into cooled pie shell and let cool 15 minutes.
Chill completely before finishing with meringue, about 4 hours.
For meringue, preheat oven to 350 °F.
Whip egg whites with cream of tartar until foamy.
While whipping, gradually pour in sugar and whip on one speed less than highest until whites hold a stiff peak.
Whisk in cornstarch and dollop over chilled lemon filling.
Use sweeping motions with your spatula to create swirls and peaks.
Bake pie for 10 minutes, just until meringue browns lightly.
Let pie cool or chill until ready to slice.