ImPat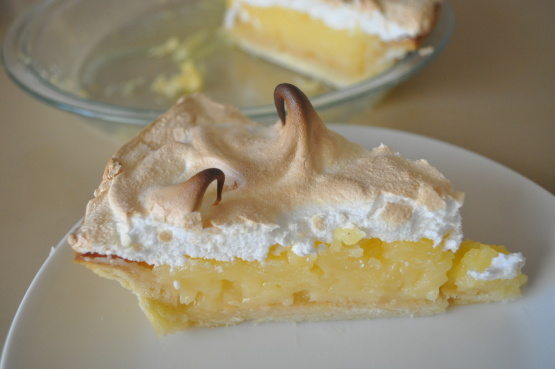 This recipe originally came from the MIL and I have been making it for nearly 30 years. For the pie case I usually use a 1/2 portion of my Shortcrust Pastry. Time for making and cooking pastry shell is not included.
Preheat oven to 220 degree celsius (450 degree F).
Mix cornflour, sugar and salt in a large saucepan.
Add the hot water and mix thoroughly and vigorously to remove any lumps.
Cook over a medium/high heat until the mixture is a thick white opaque look and there is no liquid left.
Let cool slightly, add eggs into the opaque nux and beat well over a low heat for 2-3 minutes.
Add lemon juice and butter and beat until mixture is thick and there is no liquid over a low heat.
Let cool, then spoon into baked pastry shell.
MERINGUE.
Beat 3 egg whites till stiff peaks are formed, add sugar 2 tablespoons at a time and beat in well between each addition.
Spoon or pipe meringue over lemon filling in pie case making sure meringue covers to the edge of the pastry. If spooning you can make decorative swirls with edge of spatula.
Bake for 5 to 8 minutes or till a light golden colour (swirled tips will cook a little darker).