trishy2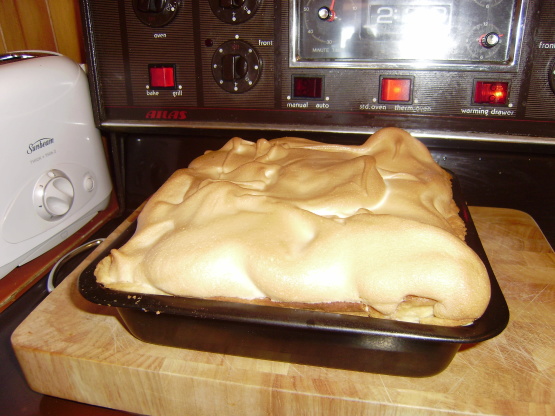 This dessert is an old favourite of many! Everyone seems to LOVE it! It really IS delicious! For some UNKNOWN reason, I seem to make it more often in the cooler months of the year than in the spring or summer! I haven't included the preparation time here mainly because I usually make the pastry case well in advance.

I absolutely loved this. Made it for Thanksgiving and "accidentally" ate it the night before, so I need to make another, no fear, this is sooo easy. The only thing I had to change was baking the crust at about 325 degrees for about 15 mins (or more) and with the merangue on top as well at the same temp. Otherwise, it was perfect!!!
Sift the flour and icing sugar into a bowl.
Rub in the butter.
Add the egg YOLK and enough water to make the ingredients cling together.
Press the dough into a ball and knead lightly on a lightly floured surface until smooth.
Cover/wrap and refrigerate for 30 minutes.
Then, roll the dough out, large enough to line a 24cm flan tin.
(ensure the tin is lightly greased before placing the pastry dough in) AT THIS STAGE you can either trim the edges now, or, wait until the pastry has been baked in the oven- this way the pastry will not"shrink" away fron the sides!
(or atleast ALLOWS for any"shrinkage") Line the pastry with baking paper and fill with rice or beans.
Bake in moderately hot oven (210-230'C) for 10 minutes after which time remove the paper and rice/beans and bake a further 10 minutes- or until the pastry is lightly browned.
Cool to room temperature.
Now make the filling and spread it into the pastry case: Combine the cornflour and sugar in a pan and GRADUALLY stir in the lemon juice and water.
Stir until smooth and then stir over heat until the mixture boils (and thickens)- the mixture should be VERRRY thick!
Reduce the heat and QUICKLY stir in the grated lemon rind, egg YOLKS and butter.
Stir until the butter is melted then cover and cool to room temperature.
Now for the MERINGUE!
Beat the egg WHITES until soft peaks form, then GRADUALLY add the castor sugar.
Beat well until sugar is dissolved.
Spread the meringue on top or the filling.
Bake in MODERATE oven (180-200'C) for about 5 minutes or until the meringue is lightly browned.
TIP: ensure the meringue covers the edge of the pastry case- this will prevent the meringue from'sliding' in from the edge!