Lemon Meringue Cake with Strawberries
Bev I Am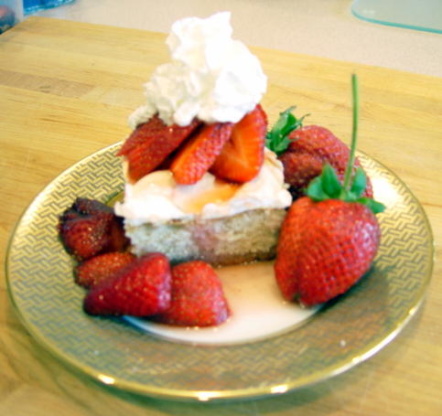 Magnificent compliment to freshly sliced strawberries! I used 2% milk, real egg whites and also real butter to prepare my recipe. I loved the addition of the meringue to this cake. It added just the slightest additional sweetness that was needed. I would recommend this recipe to anyone who enjoys strawberries! Thanks for the lovely dessert, Meow! We loved it!
Mix strawberries and 1/4 cup sugar.
Cover and refrigerate until serving.
Heat oven to 350 degrees F.
Spray square pan, 9×9×2 inches, with cooking spray.
Beat flour, 1 cup sugar, the margarine, milk, baking powder, lemon peel, vanilla, salt and 2 egg whites in large bowl with electric mixer on low speed 30 seconds, scraping bowl constantly.
Beat on high speed 2 minutes, scraping bowl occasionally.
Pour into pan.
Bake 25 to 30 minutes or until toothpick inserted in center comes out clean.
Cool slightly.
Increase oven temperature to 400 degrees F.
Beat 2 egg whites in medium bowl on high speed until foamy.
Beat in 1/2 cup sugar, 1 tablespoon at a time; continue beating until stiff and glossy.
Spread over cake.
Bake 8 to 10 minutes or until meringue is light brown.
Cool completely.
Top each serving with strawberries.