Lemon Luscious Snow Cap Cookies
J-Lynn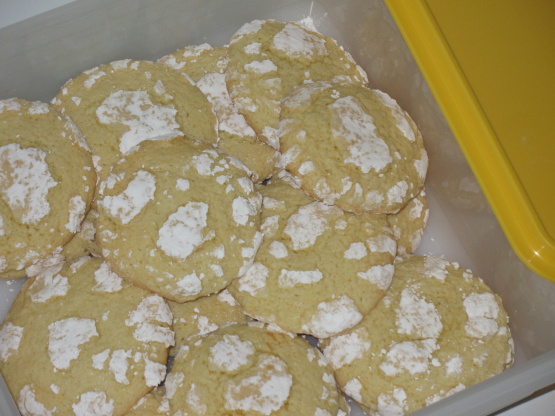 These are melt in your mouth good and a one of a kind cookie. I always triple this recipe for potluck days since everyone grabs 2 handfuls.

Top Review by J-Lynn
So yummy! I will make again, following the recipe... This time I didn't have any lemon extract or lemon zest, so I used 3-4 Tbsp lemon juice. Which of course made the dough too sticky so I added more flour and a little cornstarch, and chilled the dough for 2 hours. Anyway, the lemon flavor was barely noticeable, but hubby loved them! I chose not to use coconut or macadamias. They're soft and so pretty with the powdered sugar spots on them just like chocolate crinkles! Definitely don't overbake; they get too dry after a day or two. Great recipe!
Preheat oven to 350°.
Cream butter and sugar.
Add lemon zest, eggs and extract.
Stir in flour and baking powder.
Add nuts and coconut.
Shape into 1 1/2" balls.
Roll in powdered sugar and place on greased cookie sheets.
Bake for 18 minutes until the edges are set.
Cool a minute or two on cookie sheets, and remove to wire rack, and sprinkle powdered sugar over the tops as cookies continue to cool.