loof751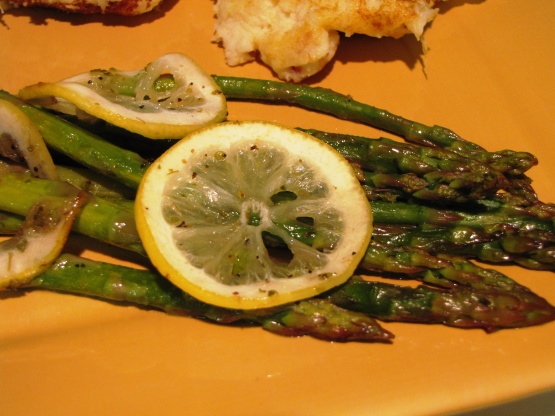 Lemon and asparagus are a classic combination and there are many versions here on the site. In this version, the lemons are roasted along with the asparagus allowing them to caramelize releasing a wonderful tangy-sweet accent to the asparagus stalks. Even better, this heart healthy dish skips the butter and gently uses extra virgin olive oil and fresh herbs. The recipe easily doubles or triples for a larger group.

We loved asparagus cooked this way. The fresh oregano and lemon made it so flavorful! Thanks for posting.
Preheat oven to 450°F
Toss asparagus, lemon slices, oil, oregano, salt and pepper on a large rimmed baking sheet. Roast, shaking the pan occasionally to toss, until the asparagus is tender-crisp, 13 to 15 minutes.
Serve hot or at room temperature.