Calee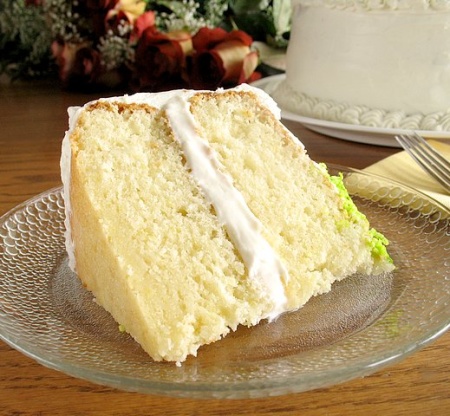 I love lemon! This cake is best if chilled for a few hours before serving.

Loved this! The texture of the cake was very good, as was the lemon flavor. I did not use the lemon curd filling and I used a lemon buttercream frosting instead. Would definitely make again!
Sift flour with baking powder, baking soda and salt in a mixing bowl and set aside.
Cream butter, sugar, and grated lemon zest with an electric mixer in separate mixing bowl until pale and fluffy.
Beat eggs in 1 at a time, thoroughly.
With electric mixer on low, add flour mixture in thirds, alternating with buttermilk.
Add vanilla and beat until smooth.
Divide batter evenly between 2 buttered and floured 9 inch cake pans.
Bake at 350 degrees for 30 minutes or until cakes are golden and toothpick inserted in center comes out clean.
Cool.
Removed cooled layers from pans.
Cut layers in half horizontally with a serrated knife.
Spread lemon curd evenly between the layers and stack on serving plate.
Whip cream and confectioner's sugar together.
Frost sides and top with whipped cream.
Cover top and sides with sliced almonds, if desired.