chia2160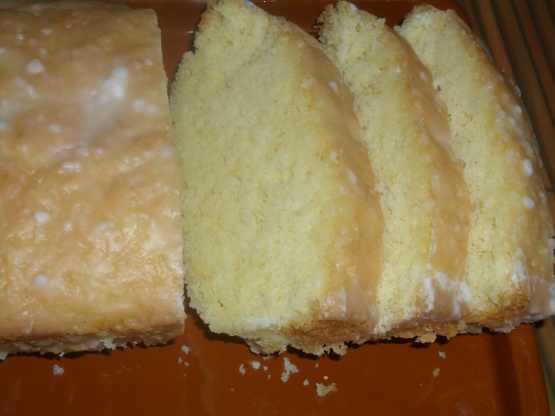 This uses cake flour which is not the same as all purpose flour. This cake can be prepared 3 days ahead of time, wrapped tightly and roomed at room temperature. Recipe source: Bon Appetit (October 1984)

Very good lemon flavour and a lighter texture than other lemon loaves I've tried. It was a nice change and a huge hit with the family- quote, "This lemon loaf rocks!" I poured the glaze over the loaf while still in the pan, after about 5 minutes after it came out of the oven. Then after about 15 minutes I removed the loaf from the pan to cool. That way all of the glaze was soaked up into the cake.
Preheat oven to 325°F.
Butter a loaf pan and set aside.
Using a food processor process the flour, baking powder and salt together for 3 seconds and pour into a bowl and set aside.
In the food processor process the sugar and lemon peel until peel is minced.
Add eggs and process for 1 minute.
Add butter and blend for 1 minute.
Add the dry ingredients and mix using 2 on/off turns.
Run a spatula around the sides mixture and then blend until ingredients are combined using 1 or 2 on/off turns.
Transfer mixture to prepared pan.
Bake for 55-60 minutes or until toothpick inserted in center comes out clean.
Cool in pan for 5 minutes and then invert on a cooling rack, turning right side up.
For the icing mix together the powdered sugar and lemon juice in a small bowl.
Brush icing over top and sides of cake.