Lemon & Lime Roasted Red Potatoes
Chef floWer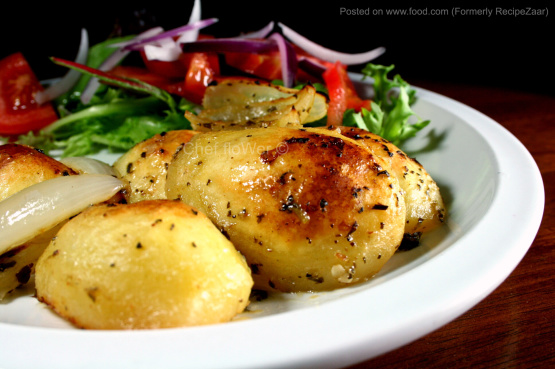 Whats not to like....roasted potatoes with herbs, garlic, wine, lemon, lime and onions...ummmm Please note: *The AMOUNT of cayenne pepper used is optional.

Made two changes (if you want to call them that) ~ I cut the recipe in half for the 2 of us & then did not peel the potatoes since we like the flavor of the skins! Otherwise I followed the recipe & we were very pleased with the potatoes! Had a few pieces left over, as well, & they were great as a cold snack! Thanks for a great keeper, as I'll be making these 'tatoes again! [Made & reviewed in Zaar Stars recipe tag]
Peel and halve potates, cut sweet onion into wedges, mince garlic and slice shallots.
Mix potatoes, onion, garlic, shallots, dried basil, coriander, sea salt and cayenne pepper together.
Mix well and add to glass pan.
Juice 1 lemon and 1/2 of a lime, add to water, slowly mix in olive oil.
Next add the white wine to the liquid mixture.
Pour liquid mixture over potatoes, cover and marinate in fridge for 30 minutes.
Bake in a preheated 400 degree oven for 80 minutes.
Turn potates frequently while cooking to keep from burning.
If potatoes start to dry out too quickly add more water as required.
The potatoes are ready when they are fork tender and crispy.