Rita1652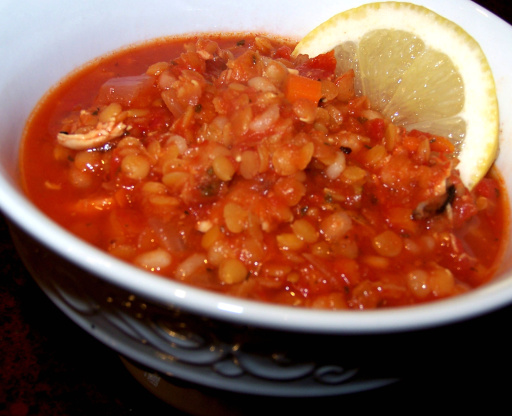 This is a hearty and delicious lentil stew with a strong lemon flavor. Serve it with any dinner menu or even as a simple main dish

I don`t understand the soaking of the pearl barley overnight for it cooks up just as quick as the lentil to a nice chewy texture. I used red lentils for the recipe didn`t state which to use. The recipe would be easier to follow if the ingredients where in order as used. This is a quick to make recipe and can be quicker if the chicken was cooked right in the pot for more direct chicken flavor. This is a tangy tomatoey lemony recipe. Nice and hearty. Yes I did enjoy it. Would have loved some garlic and some heat like pepper flakes added to it. I packed in in individual freezer bags for quick defrost and a healthy low fat lunch. As for the barley----- If this recipe called for Whole barley which includes the bran. I can understand the grain needs to be soaked overnight and then simmered for at least an hour. Barley is a good source of protein one of my favorite grains. Thanks!
Rinse off the barley and let it soak in a cup of water overnight.
Preheat the oven to 350°F.
Place the chicken breast in a baking dish. Zest one lemon on top of the chicken and squeeze all of the juice over it.
Bake the chicken for approximately 30 minutes or until done (this is for boneless skinless chicken breast, adjust cook time if using chicken with bones).
Shred the chicken into small pieces and set aside.
Sauté the onion in a large pot with the olive oil for about five minutes.
Rinse the lentils and add them to the pot.
Drain the barley and add it to the pot. Squeeze the second lemon into the pot (be careful not to add any seeds!).
Add in the chicken broth, diced tomatoes, oregano, parsley, and four cups of water. Mix the contents and bring them to a boil.
Turn down the heat and simmer for 30 minutes, stirring occasionally.
Add in the shredded chicken breast and carrots and simmer for another 5 minutes.