Kats Mom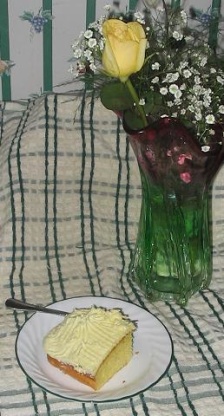 Light and moist with a delicious lemon flavor.

I thought this was a wonderful cake. We made it for my step-dad's birthday. It was very moist and the flavor was great. I would really recommend this recipe for anyone. I think the problem Anita had was she maybe baked it too long. I kept a close watch on mine while it was baking.
Preheat oven to 350°F.
Grease two 8- or 9-inch round cake pans.
Line with waxed paper; grease paper.
In a medium bowl, sift together flour, baking powder, and salt.
In a large bowl, beat together butter, sugar, and eggs with electric mixer at high speed until light and fluffy, about 3 minutes.
Beat in lemon rind and juice.
Add flour mixture to creamed mixture alternately with milk, beating between each addition just until well mixed.
Pour into prepared pans.
Bake for 35 minutes, or until centers spring back when lightly pressed with finger tip.
Cool in pans on wire racks for 10 minutes; loosen around edges with knife; turn out onto wire racks; cool completely.
For frosting: Beat butter in a medium bowl with electric mixer until soft.
Stir in lemon rind; beat confectioners sugar alternately with lemon juice until smooth and spreadable.
(makes enough frosting for one two-layer cake).